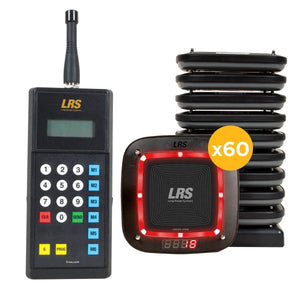 Guest Pager System Kit with 60 Pro Pagers and MT Transmitter by Long Range Systems
This LRS MT Guest Paging System includes Pro Guest Pagers and an LRS MT Transmitter.
The LRS Pro MT guest paging system helps businesses to better serve their guests. Restaurants, doctors offices, salons, automotive shops, and many other business types all benefit from guest pager systems. LRS guest pagers discreetly alert customers with a buzz and flashing light when service is ready.
The Guest Pager Pro features a digital pager number display you can change as needed, a variety of brightly illuminated LED light colors and a vibration that can be set to various alert styles like flash or glow.
Features:
Perfect for restaurants, doctors' offices, clinics and other services where people are waiting.
Simple do-it-yourself setup with no installation required.
Reliable, robust and resistant to abuse and tampering.
24/7 support
1-year warranty
Expands to 799 pagers
Replacement and expansion pagers available in any quantity
Kit Contents
This LRS Connect Guest Pager Kit consists of:
1 Transmitter (TX-9560MT)
60 Pagers (RX-CS7 Pro)
2 charging stations (2x R8-30 for 60 pager total capacity ).
Benefits to Restaurants
With guest paging, patrons feel committed to staying at your restaurant so there are fewer walk-aways. Table turns are increased as seating time is reduced and your bottom line is improved.
Eliminate overcrowded waiting areas that make customers want to go elsewhere.
Commit patrons to waiting and reduce walk-aways.
Locate waiting guests quickly and economically.
Prevent calling mispronounced names on the PA system.
Enhance the atmosphere of your waiting area by reducing noise.
Improve overall guest satisfaction.
Reduce wait time and turn more tables.
Coaster shapes encourage drink purchases while waiting
Applications by Industry
Guest paging in restaurants
Patient paging in hospitals and clinics
Guest paging at day spas
Customer paging at auto repair centers
Guest paging at golf courses and clubs
Driver paging at warehouses and distribution centers
Student registration traffic control
Size and Upgrade Options
Pager Quantity: Standard guest systems sizes have 15, 30, 45 or 60 pagers. Systems can be customized to include any number of pagers (up to 799). Replacement and expansion pagers can be purchased at any time in any quantity.
Transmitter Quantity: Standard guest systems require only one transmitter. Systems can be customized with additional transmitters as needed.
Range Extension: The standard system should have enough range as it is for most applications. A variety of optional devices are available to increase range if needed.
Specifications
Guest Pagers (Model RX-CS7)
Simple do-it-yourself installation.
Digital coaster number display.
Customizable label stickers available for the top face.
UHF frequency (FM 420-470 Mhz) for greater range and pageability.
Flashing "active" light shows pager is working.
Patented stack-charging method allows recharging pagers in any direction.
Programmable flash, vibrate and glow paging modes.
Large size: 4" x 4" x .75", 4 ozs.
Shock-absorbing bumper around all edges.
Water resistant.
Up to 24 hours on a single charge.
No battery door - prevents tampering
On-site reprogrammability.
"Heartbeat" charge light.
Nickel metal hydride batteries with two-year-plus lifetime (on average) and no "memory" problems.
Return address label area on the back
Tracking mode continuously repages until coasters are returned
Auto-locate mode for finding misplaced pagers at the end of a shift.
Compatible with legacy LRS coaster pager chargers and transmitters.
MT Transmitter (TX-9560MT)
Pages up to 799 pagers
Multiple alerts styles as needed: 30 sec. flash, 4 min. flash, flash & beep, or glow (you can use the different styles to send different messages)
All-pager-call feature
UHF Frequency (467.75 MHz)
Rechargeable built-in battery lasts up to 3 days (also works off wall power)
Compact size: 3.25"w x 10.5"h (including antenna) x 1.25"d
Programs pagers with pager numbers and system IDs
Extendable range with repeater transmitters and relocatable antenna
System ID 9 is the default setting (but we use your regular setting if we have one on file or if you contact us to specifiy a different setting.) In any event, the system ID can be set from the keyboard.
The MT model is not internet-enabled. See the LRS Model TX-7470 Guest Pager Transmitter if internet-enabled features are required.
Charger (Model CH-R8)
"Any-Orientation" means coasters don't need to stack in the same direction or on angles like most competitors' do.
Small and flexible footprint takes up minimal space.
Each charging base safely handles up to 15 coasters.
Charger bases have small and flexible footprints to occupy the least space possible.
Bases "daisy-chain" so you can charge up to 30 coasters on one power outlet.
Related Products
Optional Extras: Your system can be customized or expanded and parts can be replaced with individual purchases of the following:
Guest / Patient Pagers
Text Display Pagers
Transmitters
Chargers
Power supplies
Range Extension Devices
Pagers and System Expansion Kits
Pro Guest Pager by Long Range Systems (Model RX-CS7)
LRS Pager System Components: Text Message Manager/Staff Pagers (Individual)
Transmitters
LRS Pager System Component: Guest Pager Transmitter T9560MT
LRS Pager System Component: T7470 Freedom Pager Transmitter
LRS Pager System Component: Server Pager Transmitter T9560EZ (One touch to 20)
LRS Pager System Components: Butler II Five Button Transmitter
LRS Paging System: Butler XP Push-for-Service Transmitters
LRS Pager System Components: PRONTO One-Button Transmitter System
LRS Pager System Components: PRONTO Six-Button Transmitter
Range Extenders
LRS Pager Components: TX-74POCREP Pager Repeater Transmitter
LRS Pager System Components: 7ft Extended Range Antenna
LRS Pager System Components: 10' / 25' / 50' Extended Antenna Cables w/Splices
Coaster-Style Pager Chargers
LRS Pager Component: Coaster Pager Chargers 8-15/30 (for up to 15/30 coasters)
Spare Parts: Power Supplies, Charing Bases and Jumper Wires
LRS Pager System Component: Pager Charger Power Supply
LRS Pager System Components: Pager System Power Supply Model L1-0034
LRS Pager System Components: 5-Inch Jumper Wire for Pager Chargers
LRS Pager System Components: Charging Base for coaster-style guest pagers
Sensors for Page Trigger Input Ports (For T7460 and Butler II transmitters)
LRS Pager System Component: Butler Series Door Bell Kit
LRS Pager System Components: Butler Series Door Sensor Kit
Policies
US Delivery Only: All LRS-brand products are restricted to US address delivery only.
Rush Orders and Shipping: Click here for details about rush orders and shipping.
Warranties, Returns and Refunds: Click here for details about warranties, returns and refunds.
---
We Also Recommend