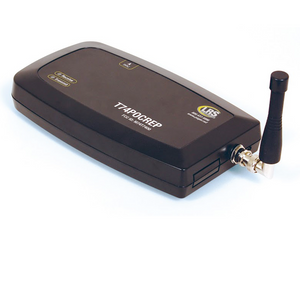 Repeater Transmitter for Range Extension by Long Range Systems (Model TX-7470-C232)
The LRS Repeater Transmitter (model TX-7470-C232) can be added to LRS pager systems to increase their range. Order this as part of a custom system or to expand your existing system. Multiple repeaters can repeat signals indefinitely, giving LRS the best range in the industry.
Benefits
Use repeaters to:
Expand coverage between buildings and across campuses.
Create wireless connections to rooftop antennas.
Greatly increase the range of single or multiple small push-for-service transmitters.
Overcome coverage problems ("dead spots") which may be present in large, very solidly constructed buildings such as hospitals or high-rise office buildings.
Application
LRS repeaters simply repeat any LRS transmitter signals they receive. When repeaters are placed near the maximum range of original signals, they repeat the weak, distant signals with new, full-strength signals, thereby extending the range of the original signals.
The original signal can be from any LRS transmitter or even another repeater. You can spread out repeaters in such a way as to send signals over a network of repeaters to eventually cover very large areas.
A Typical Hospital Scenario
A large hospital built of heavy concrete and steel, with six floors above ground and three below and covering most of a block, has a clinic on the ground floor. The clinic needs to page patients anywhere in the building and throughout the grounds. Two repeaters are placed on middle floors at the ends of the building to provide coverage within the building. A third repeater is placed on the top floor with a connection to a large antenna on the roof to provide coverage for the hospital's upper floors, grounds and beyond.
LRS transmitters normally use a 3-inch antenna mounted on the transmitter itself. There is an optional seven-foot antenna which can double the range of the 3-inch. The larger antenna includes a 25-foot cable. Cable lengths beyond 25 feet reduce the range, which is one of the reasons a repeater is connection to the roof antenna instead of running cable all the way from the ground floor.
Specifications
Works with all LRS pagers and transmitters
No monthly charges
UHF frequency (467.75 MHz)
Does not interfere with hospital equipment
Synthesized frequency and modulation
Operates on 110V or 220V
Overall size: 4" x 8" x 1" thick
Increases range indefinitely when multiple repeaters are used
Automatically networks with multiple repeaters; use any number of repeaters as needed for coverage.
Small and lightweight for easy mounting
TX and RX LED's allow for easy testing/debugging
Detachable antenna can be relocated with available coax cables
Long range antenna available
Requirements
Repeaters are usually just placed in utility closets and plugged into wall power, need no special setup or ongoing attention from users, and it's usually just that simple.
Locating the repeater is the key to optimal performance. Ideally, repeaters should be located at the sweet spot where source signals are as weak or distant as can be yet still received reliably. The only way to know where this is is by trying different locations.
As is true for all radio equipment, keep the following in mind to optimize performance. Note that the following applies to the location of the antenna rather than the electronics box itself. The antenna can be separated from the box with a cable so the box can be in a convenient location while the antenna can be elsewhere where it works best.
Radio signals love height; higher is always better. The roof is ideal but upper floors near windows are good or near the ceiling is OK if that's all you have to work with.
Radio signals do OK with windows, light construction and empty space. In a standard low-rise building of wooden or cinderblock construction with lots of windows and open spaces, radio does fine.
Radio signals do not like metal. Keep antennas as far away from metal as possible, especially sheet metal. Do not locate antennas in places surrounded by metal or on top of metal surfaces such as steel desks or cabinets. If your building has sheet metal walls, locate antennas so they can "see" out windows or better yet, mount antennas outside of the building.
Radio signals do not like heavy concrete-and-steel construction such as used in large hospitals. Signals that can go a mile in open air may only go a hundred feet in very solid buildings, so we "pepper" hospitals with networks of repeaters to achieve even coverage. (Why don't we use more powerful transmitters? Because more power creates interference that medical devices may not tolerate. LRS transmitters are widely used in hospitals because their power levels are safe for use with hospital equipment.)
Related Products
Optional Extras: Your system can be customized or expanded and parts can be replaced with individual purchases of the following:
Staff / Server Pagers
Text Display Pagers
Transmitters
Chargers
Pager belt clips
Power supplies
Range Extension Devices
Pagers and System Expansion Kits
LRS Pager System Components: Individual Star Staff / Server Pagers (RX-SP4)
LRS Pager System Components: Text Message Manager/Staff Pagers (Individual)
LRS Pager System Components: Star Staff / Server Pager Replacement Four Pack
LRS Pager Kit: Star Staff Pager Expansion Kit ADD-STAFF (5 Pagers & Charger Expansion)
LRS Pager System Components: Star Staff / Server Pager Replacement Six Pack
Transmitters
LRS Pager System Component: Guest Pager Transmitter T9560MT
LRS Pager System Component: T7470 Freedom Pager Transmitter
LRS Pager System Component: Server Pager Transmitter T9560EZ (One touch to 20)
LRS Pager System Components: Butler II Five Button Transmitter
LRS Paging System: Butler XP Push-for-Service Transmitters
LRS Pager System Components: PRONTO One-Button Transmitter System
LRS Pager System Components: PRONTO Six-Button Transmitter
Range Extenders
LRS Pager Components: TX-74POCREP Pager Repeater Transmitter
LRS Pager System Components: 7ft Extended Range Antenna
LRS Pager System Components: 10' / 25' / 50' Extended Antenna Cables w/Splices
Star and AdverTeaser Pager Chargers
LRS Pager Components: Server/Star/AdverTeaser Pager Chargers (5/15/25 bay)
Spare Parts: Belt Clips, Power Supplies, Jumper Wires
LRS Pager System Components: Pager Cradle Belt Clips for Star Server Pagers (1 dozen)
LRS Pager Components: Star and AdverTeaser Pager Charger Expansion Rack
LRS Pager System Component: Pager Charger Power Supply
LRS Pager System Components: Pager System Power Supply Model L1-0034
LRS Pager System Components: 5-Inch Jumper Wire for Pager Chargers
LRS Pager System Components: Server Board (Name Board) for T9560EZ Transmitters
Policies
US Delivery Only: All LRS-brand products are restricted to US address delivery only.
Rush Orders and Shipping: Click here for details about rush orders and shipping.
Warranties, Returns and Refunds: Click here for details about warranties, returns and refunds.
---
We Also Recommend